A video of a Muslim fruit vendor spitting and applying saliva to the fruits has gone viral on Twitter and Whatsapp with a claim that the Muslim community is intentionally spreading the coronavirus. A fact check on the video has revealed the authenticity of the video and the claim.
In the thirty-second video, the fruit vendor is seen licking is fingers while arranging fruits. This has been extensively shared in Whatsapp groups and twitter attached with a claim that the vendor is doing it on purpose, to spread the infection. Some of the captions also claimed to not buy vegetables or fruits from Muslim vendors. Along with social media, the mainstream media also picked up the news and broadcasted with the same narrative.
The truth
The incident is confirmed to have happened in the Raisen district of Madhya Pradesh. Post the viral video, the authorities took the matter into hands and have arrested the man. The man is identified as Sheru. He has been booked under the Indian Penal Code Section 269 (negligent act likely to spread infection of disease dangerous to life0 and 270 (a malignant act of likely to spread infection of disease dangerous to life).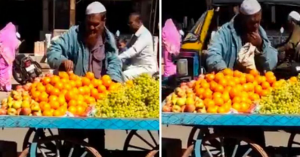 According to the FIR filed, the incident in the video is set to have taken place on the 16th of February 2020. The complainant Bodhraj Tipatta is said to have shot the video himself. As per him, he spotted the man doing the act across the street and decided to shoot through his mobile. He believed that the vendor is infecting the fruits with his saliva.
During the police investigation, Sheru confessed that he did not know what he was doing. According to him, he was separating the rotten fruits. The medical team is yet to investigate Sheru. However, Sheru's daughter Fiza has claimed that her father is mentally unstable and because of that, he ends up making gestures often associated with counting money. However, there is no substantial evidence to back her claim.
Madhya Pradesh has so far confirmed 194 positive cases for the novel coronavirus with 3 recovered and 14 deaths. The state is one of the few states where the number of deaths has crossed the number of recoveries.