Fit India Movement: Some players not only fight to win medals but also aim to overcome the challenges of life. They encounter hunger and poverty. The insistence on having the most difficult opponent around the world proves him to be the champion every day and when playing this real game of life, when he gets down in front of the field opponent, victory bends him. Such stubbornness of winning, such a challenge to challenge the challenges and this level of 'fitness' is rarely found in the players of America, China, and Japan.
That is why Hima Das surprises the world with little encouragement. Kamalika Bari, the daughter of a father who runs a small Dhaba, Deepika Kumari, the daughter of an auto driver. Athlete Subhadra Baghel of Jagdalpur in Chhattisgarh and Anu Gupta of Kaimur in Bihar are heading in this direction. Even in the absence of financial support, their passion towards the game is sustained to the extent of stubbornness. They just need some support.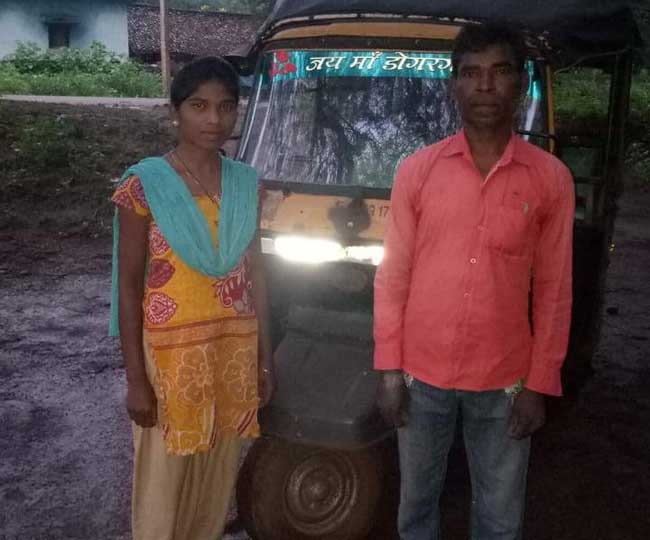 Subhadra (left) gave new world to father by buying this auto
Auto bought by father with the amount of reward, when Subhadra of Bakavand block of Jagdalpur district runs in the field, it turns to gold. There is a streak of medals. She has so far won more than three and a half lakh rupees. Subhadra gave the father the prize money by buying an auto. Due to this prize money, his siblings survived from missing their studies. Subhadra is the eldest of four siblings. Father Sampat Baghel owns only two acres of cultivation. In such a situation, Mata Shabari Kanya Ashram, run by Padmashree Dharampal Saini, became support for them.
Jagdalpur: Tribal girls practicing in Shabri Kanya Ashram Complex
She got Subhadra admitted there. The daughter was talented and interested in sports. Started practicing the race. When she was in class III, for the first time she won a prize of two thousand rupees at the district level. After this, she did not look back. She knew the poverty of the house. She knew that it is not easy for the father to teach sisters and brothers. She felt that by running she could overcome the father's worry. After this, she worked hard and till now, she has won the prize of three and a half lakh rupees. Father Sampath and mother Kanakdei are proud of their daughter. They say, 'Subhadra who is doing it, even today sons don't. Younger sister Basanti is also practicing marathon inspired by Didi. Subhadra is currently a student of BA II.
Anu and Priya, sisters from Kaimur, Bihar
'Dangal girls' Anu Gupta and Priya Gupta from the Durgapur block of Kaimur district of Bihar are national-level wrestling players, arranging diet with the prize money of Dangal. Both sisters are also called 'Dangal Girls of Bihar', but due to poverty, they are unable to get enough diet (nutritious food). Father Bhagwan Shah is unemployed. Anu fights riot in the surrounding areas and arranges a diet for herself and her sister with a prize money. Anu says, 'The wrestling player needs nutritious food like milk, eggs, fruits, soybeans, cashew-almonds in the diet, but it is difficult to feed the family here. If you win a riot in a month, you get a thousand and a half thousand rupees, then sometimes you get milk and fruits. ' Anu also runs a beauty parlor in the village itself, so that the household can earn a living. Also studying in BA-Part One.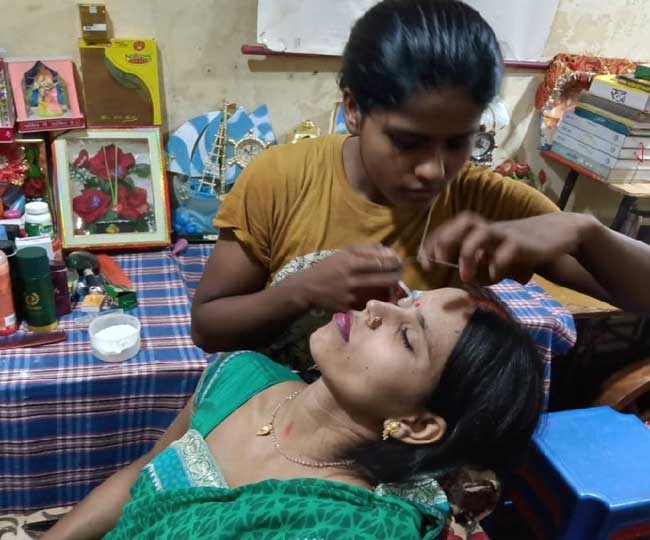 The livelihood of the family running a beauty parlor. Anu says, 'After passing the inter, the beauty parlor has been opened by the state government with the amount of Rs 10,000 received for further studies. However, due to the rural area, very few women come. Anu said, 'Poverty is hindering our performance. We sisters do not even have access to Matt for wrestling practice. There is a residential wrestling training center at Bichhiya, a short distance from the village, but only boys are allowed there. Despite these challenges, our aim is to win medals for Bihar and the country at national and international forums.