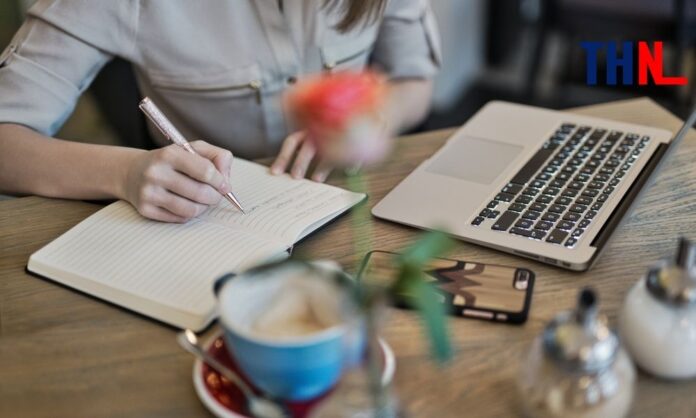 As an entrepreneur, you need to be a jack of all trades—developing business ideas, marketing, public speaking, mastering finances and cash flow, and much more. But there's one area that often leaves business owners paralyzed with fear: Writing. How do you create content if you're not a writer?!
As we all know, these days being a "content creator" is a requirement for building your online business. Providing value through creating useful content helps to grow your audience, builds trust with your audience, establishes you as an authority in your industry, and invites people into your ecosystem.
This type of content, also called content marketing, is all about creating content that will invite people to come to you because of the value you offer, instead of just pushing out a message through advertising or traditional marketing.
Content marketing includes blog posts, email newsletters, social media, podcasts, YouTube videos, and other content that people actually want to consume. This content doesn't involve the "hard sell" you put in your marketing and advertising efforts. Content marketing is more about offering help, building relationships, building trust, and building your community of superfans.
Content marketing is great, but it also requires a lot of writing, even if you're creating a YouTube video or podcast.
So . . . what if you're not a writer? What if you're just not good at it, or don't like doing it? What if you just don't have the time?
Don't despair! Here are some hacks that you can employ that will help you create great written content that will help you build your business.
Hire a Writer
This is a no-brainer, right? If you have the means to hire someone else to do your writing for you, then, by all means, hire away! This will allow you to focus on what you do best.
So how do you go about hiring a freelance writer? Ask around and see if anyone in your network can recommend a writer. Post a message on LinkedIn, or visit one of these platforms that can match you with a freelance writer.

Fiverr is a great website where you can find writers who have experience with just about any kind of writing, whether it's articles/blog posts, white papers, sales and marketing copy, or ebooks. You can also hire editors and proofreaders.
On Fiverr, you can browse the profiles of freelance writers available for hire, and see which one may be a good fit for your needs. UpWork is a similar website.
Don't be afraid to hire someone to help, even if it's for only a few hours a week, or one project at a time. If the writer is a good fit, you may even eventually want to ask them to come onto your team full-time. Hiring freelancers is a great way to get to know someone before you hire them.
But what if you don't have the money to hire someone?
Tap Your Team
If you have a team, even if they're not in an official "writing" role, tap them to see if they will contribute.
You might be surprised that there are good writers out there who aren't in an official writing role. So see if team members can focus on a specific topic they have expertise in, and ask them to contribute on a regular basis.
At SPI, we have several people on our team who write content, including me; our senior writer, Ray Sylvester; our co-CEO Matt Gartland; Sara Jane Hess, and David Grabowski from our podcasting team; and Jillian Benbow and Jay Clouse, from our CX team.
If you have someone on your team who is good at editing, you can also record an audio "brain dump." This is where you record your thoughts and ideas for a blog post, and then have someone else edit the content into a cohesive article.
Repurpose Existing Content
You probably already have content that you can repurpose to make blog posts, email content, and even social media posts.
Do you have an online course? If so, take one module, or chapter, of that course and edit it down to create a blog post. At THN, we recently did that with this blog post on how to nail your business idea.
You might think, "What if people know the blog post is taken from course content? That's cheating!"
No, it's not. It's providing your audience with valuable information through more than one medium. Blog content is free. So offering free content from a paid course is adding value. Just be careful not to give away too much content for free, or that will devalue your paid content. But a slice here and there is a smart way to reuse content and serve your audience.
You can also reuse content from your podcast, if you have one, and YouTube videos. Take the transcripts, evaluate them to see what content will work best in a blog format, and edit them down.
Strategically reusing content is smart and efficient.
Invite Guest Bloggers to Contribute
Is there someone in your network who can write valuable content on topics that will benefit your audience? Reach out to them and see if they would be interested in writing guest posts. Ideally, these would be people who have a somewhat substantial audience, so you're killing two birds with one stone—you're providing content for your audience, and when a guest blogger promotes the post to their own audience, you'll get some new eyes reading your content.
Make sure the guests know your audience and the types of topics you cover on your blog. Suggest topics they can write about, or collaborate to come up with topics. When their post is published, suggest ways the guest can promote the post to their own audience so you can get more traffic to your website.
At SPI Media, we frequently invite guests to write for our blog, including this one from our friend Heather Osgood, founder of True Native Media, on how to turn your podcast into a profitable business.
Curate Content
Whether it's for a blog post or your weekly newsletter, curating content is another option for providing value to your audience without having to personally churn out a 2,500-word original article.
Curating content is simply putting together several pieces of content that you have found interesting and think your audience will like. For instance, a blog post could consist of a list of articles (with links) from other publications that you've found helpful on topics related to your industry.
Again, this may seem like a cop-out. But it's not! People like convenience, and having links to several articles all in one place saves them time and effort.
Survey Your Audience
Enlist your audience to help you write content! You can do this by surveying them and using their answers to create blog posts. At SPI Media, we typically use a Typeform survey to ask our audience a question. Then we gather the answers and put them together in a blog post. This is a great way to provide interesting information, and also connect with your audience.
Last May, early in the COVID pandemic, we surveyed our audience and asked them, "What's giving you hope?" Several people responded to our survey, and we compiled their answers in this powerful blog post.
Leverage the Power of Lists
A list of tips or recommendations is an easy way to pull together content that doesn't require a lot of research and writing.
About once a month, our podcasting team puts together a list of their favorite podcasts. They write a paragraph about each one, and tell readers why the podcast is good. Sounds easy-peasy, right?
You could do this for anything. What are your top ten recommended online business tools? What are the best business books you're reading right now, and what do you like about them? What are the top five things that helped you start your business? Giving people advice through a list is a great way to create valuable content.
Interview Experts
If you're good at asking questions and being curious, then you will probably be good at interviewing.
Interview an expert on a topic that you think will help your audience. At SPI Media, we regularly interview entrepreneurs who are doing amazing things.
Interview people in your audience who have found success, and write a success story for your blog. People love to read about people just like them who are succeeding.
Interview a mentor or someone you look up to. Ask them for advice, and create a blog post with the answers.
If you record a video of your interviews, it can be used in many different ways: for a podcast, a video for your Tube channel, as a blog post. You can get a lot of mileage from just one interview!
If you want to learn more about creating content, here are some tips from Sahil Kashyap- 6 Startup Tips From a Young And Successful Entrepreneur