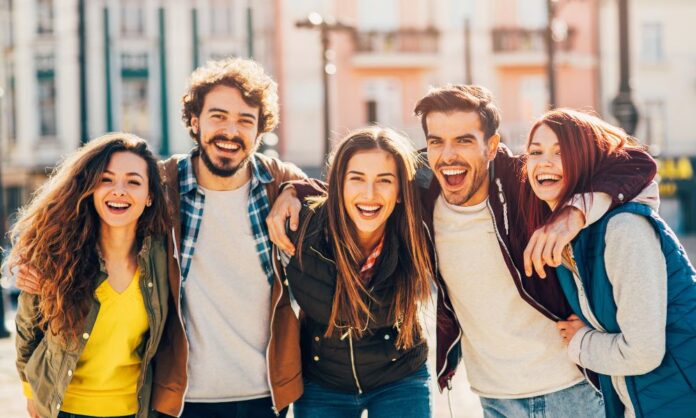 Best friends are like the family we choose. Our best friends hold a special place in our hearts as they become the family we choose. Regardless of proximity or the length of our friendship, they provide unwavering support, offer a comforting presence in difficult times, rejoice in our achievements, and love us unconditionally. The celebration of best friends varies across different cultures, but the significance of these relationships remains universal. In the United States and Canada, June 8 is designated as National Friends Day, a perfect occasion to cherish the companions who stand by us through thick and thin.
Friends Day is an ideal opportunity to spend valuable time with those who are always there to lend a helping hand. It's a day to recognize and appreciate the individuals who catch us when we stumble and share in our joyous moments.
Friendship Day is an occasion that brings people together to celebrate the importance of friendship. It serves as a reminder that life becomes easier when you have good friends by your side. With the advent of social media and mobile phones, the popularity of Friendship Day has soared, making it a widely celebrated event worldwide.
History of Friendship Day
The history of Friendship Day can be traced back to the 20th century. In 1930, Joyce Hall, the founder of Hallmark cards, designated August 2 as Friendship Day, a day to honor and celebrate friendships. Initially promoted by the National Association of Greeting Cards in the 1920s, it was soon recognized as a marketing gimmick. Consequently, the trend of Friendship Day cards and the holiday waned in the US by the end of the 1940s.
The concept of World Friendship Day originated in Paraguay during a dinner gathering among friends on July 20, 1958. This humble meeting led to the birth of World Friendship Day, which later shifted to July 30, becoming the designated Friendship Day in Paraguay and several other countries.
Friendship Day is celebrated on different dates in different countries. Bangladesh, UAE, and Malaysia, similar to India, observe Friendship Day on the 30th of July 2023. In Bolivia, Friendship Day is observed on July 23 annually. People often search for Friendship Day messages and quotes to express their love and appreciation to their friends.
Delhi, being the capital city of India, hosts a spectacular celebration of Friendship Day. People of all ages flock to popular destinations throughout the city to mark the occasion. Friends venture out of their homes to explore different places together. Some noteworthy spots to visit on Friendship Day in Delhi include:
Connaught Place: A favored hangout spot in Delhi, Connaught Place offers a lively atmosphere for friends to gather and relax. The area is abuzz with events, contests, live music, and delectable street food, making the celebration even more enjoyable.
Hudson Lane: Located in the north campus of Delhi University, Hudson Lane is a popular destination for young people. The area is dotted with cozy cafes where friends can spend quality time together, relishing good food, and capturing memories. It is also a great opportunity to exchange trendy wristbands as tokens of friendship.
India Gate: For a memorable photoshoot on Friendship Day, India Gate is an excellent choice. Although it may be crowded, the beautiful lawns and the option of a boat ride offer a fantastic backdrop for capturing special moments with friends. The best part is that the spot is open all day and has no entry fee.
Follow and connect with us on Twitter, Facebook, Instagram, and Youtube