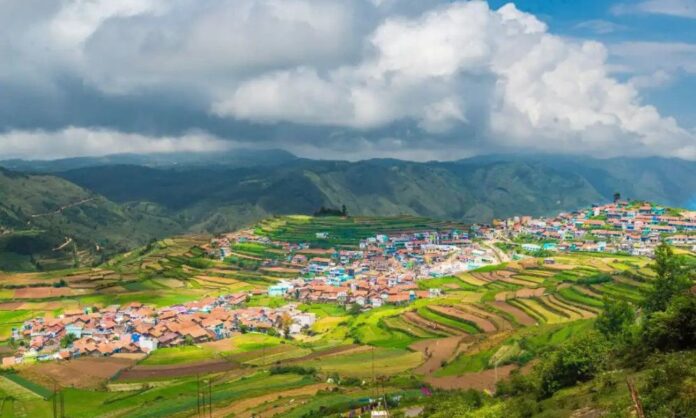 Gardens, with their enchanting beauty and tranquil ambiance, have a way of captivating our senses and soothing our souls. From sprawling botanical wonders to meticulously designed landscapes, the world is adorned with gardens that offer a glimpse into the beauty of nature's creations. Whether you're a horticulture enthusiast, a lover of artful landscaping, or simply seeking a serene escape, these 10 breathtaking gardens across the globe are a must-visit for anyone with a passion for beauty and nature's bounty.
1. Dubai Garden Glow, UAE: A Luminescent Oasis
Combining nature with innovation, the Dubai Garden Glow is a captivating garden that comes to life after sunset. With its dazzling light displays and larger-than-life illuminated sculptures, this garden creates a magical world of colors and wonder. From a vibrant glow park to a sparkling dinosaur park, Dubai Garden Glow offers a unique and mesmerizing experience for visitors of all ages. To experience the enchantment, consider booking your Dubai Garden Glow tickets in advance and immerse yourself in this radiant oasis.
2. Kew Gardens, UK: Botanical Marvels in London
Nestled in London's embrace, Kew Gardens is a tapestry of botanical wonders that enchants visitors. Home to an array of plant species, this UNESCO World Heritage Site boasts Victorian glasshouses like the Palm House and the Temperate House. With themed gardens, the Waterlily House, and the Japanese Gateway, Kew Gardens presents a captivating blend of nature and culture. To explore this horticultural gem, book your Kew Garden tickets and embark on a journey through vibrant landscapes and awe-inspiring greenery.
3. Butchart Gardens, Canada: Floral Symphony in British Columbia
Nestled on Vancouver Island, Butchart Gardens is a horticultural masterpiece that exudes elegance and color. With meticulously designed themed gardens, including the Sunken Garden, the Rose Garden, and the Japanese Garden, this Canadian gem is a haven for flower enthusiasts. Witness the transformation of former limestone quarries into a vibrant tapestry of blooms, making it a testament to nature's ability to flourish in unexpected places.
4. Keukenhof Gardens, Netherlands: A Sea of Tulips
Every spring, the Keukenhof Gardens in Lisse, Netherlands, bursts into a riot of colors as millions of tulips bloom in breathtaking patterns. Often referred to as the "Garden of Europe," this floral wonderland showcases not only tulips but also daffodils, hyacinths, and other spring blooms. Stroll along the flower-decked pathways, reveling in the vibrant hues and delicate fragrances that define this extraordinary spectacle.
5. Versailles Gardens, France: Grandeur Amidst Opulence
The Gardens of Versailles, an integral part of the Palace of Versailles in France, are a symphony of formal gardens, ornate fountains, and meticulously sculpted hedges. With its geometric designs and intricate water features, this garden is a reflection of French Baroque style. The iconic Hall of Mirrors opens up to the sprawling gardens, creating a seamless transition between opulent interiors and the natural beauty of the outdoors.
6. Garden of Cosmic Speculation, Scotland: Where Art Meets Nature
Tucked away in Scotland, the Garden of Cosmic Speculation is a fusion of landscape art and conceptual design. Created by Charles Jencks, this garden defies traditional landscaping norms, featuring intricate patterns, sculptures, and earthworks that reflect scientific and mathematical concepts. It's a garden where philosophy, art, and nature converge to create a thought-provoking and visually striking experience.
7. Jardin Majorelle, Morocco: Oasis of Exotic Beauty
In the heart of Marrakech, Morocco, lies the enchanting Jardin Majorelle. Acquired by Yves Saint Laurent and Pierre Bergé, this oasis of exotic beauty marries vibrant blue architecture with lush greenery. Bougainvillaea, cacti, and water features create a serene atmosphere amidst the bustling city. The striking cobalt blue structures are a testament to Morocco's artistic heritage. The Jardin Majorelle offers a sensory escape, where intricate garden design fuses with the essence of North African culture. It's a resplendent retreat that honors nature's wonders while weaving a tapestry of Moroccan elegance into the heart of the garden.
8. Huntington Library and Botanical Gardens, USA: A Californian Gem
Located in California, the Huntington Library and Botanical Gardens encompass a diverse range of themed gardens, from the Desert Garden showcasing cacti and succulents to the Japanese Garden with its serene ponds and traditional architecture. The library's extensive collection of rare books and manuscripts adds an intellectual dimension to this lush oasis, making it a haven for both nature enthusiasts and scholars.
9. Butchart Gardens, Canada: Timeless Elegance in Victoria
Nestled on Vancouver Island, Butchart Gardens in Victoria, Canada, is a testament to horticultural excellence. Its history dates back over a century, evolving from a limestone quarry into a symphony of colorful blooms and serene landscapes. The Sunken Garden, Rose Garden, and Japanese Garden are just a few of the exquisite spaces that visitors can explore. The garden hosts seasonal displays and events, making each visit a unique and enchanting experience.
10. Singapore Botanic Gardens, Singapore: Tropical Paradise in the City
Nestled in Singapore's bustling embrace, the Singapore Botanic Gardens stands as a lush sanctuary of natural beauty. This verdant haven is home to diverse flora, serene lakes, and themed sections that transport visitors into tropical paradises. The iconic National Orchid Garden showcases a stunning collection of orchid species. From tranquil moments by Swan Lake to captivating strolls through the Rainforest and Ginger Gardens, this UNESCO World Heritage Site offers respite from the city's pace. The Singapore Botanic Gardens captures the essence of nature's beauty while harmoniously coexisting with the urban landscape.