Instagram is an unmissable social media platform for any business. You can use it as an advertising tool to reach out to consumers who use the app as a shopping platform. With one billion monthly active users and a potential reach of approximately 849.3 million, Instagram gives you an excellent opportunity to promote your brand and increase conversions.
While several businesses are running various types of Instagram ads such as carousel and photo ads to reach out to the target audience, it's simply not enough. From a marketing standpoint, you need unique ways to engage your prospect and convert them into loyal customers. Given that social media users are exposed to approximately 5,000 adverts a day, you need to cut through the clutter to get noticed.
One way of promoting interactive engagement with the audience and achieving instant sales is through shoppable videos. While the option to publish shoppable posts on Instagram has been around since 2018, shoppable videos were introduced in 2019 to make the app even more business-friendly.
Here's a how-to guide that breaks it down for the uninitiated and gives you handy tips to create eye-catching shoppable videos.
What are shoppable videos?
Shoppable videos allow the user to complete the purchase directly from the video they are watching in their feed. These videos reduce the time between things your customer experience consulting, like and the actual purchase. You can choose from the following stickers to create a shoppable video:  a shopping bag icon, a sticker with the product name in rainbow or grey, and translucent text. Once a user clicks on the sticker, they are directed to another page containing the product details and purchase options.
Here's how a shoppable video from the profile of a popular fitness clothing brand, Outdoor Voices looks: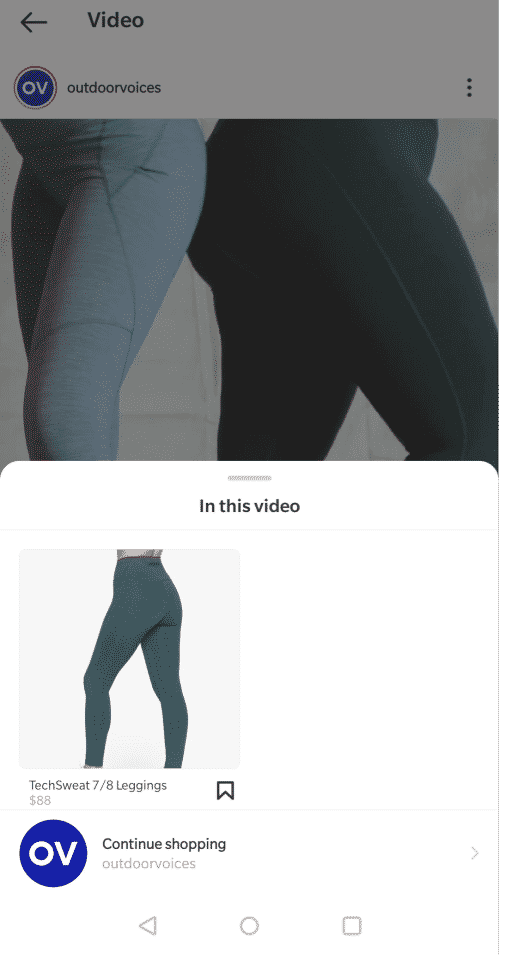 By simply adding a shoppable sticker to your video card, you can optimize the customer experience and speed up sales as never before. Such videos also get better engagement than photo ads as a vast majority of consumers prefer watching videos on Instagram. In fact, 18 percent of the posts on the app are in video format, and they generate over three times more engagement compared to sponsored photos.
Moreover, research predicts Instagram will outrank YouTube in terms of consumption of sales-driving video ads, making a compelling case to try out the shoppable video format.
Why should shoppable videos be a part of your business's video marketing strategy?
Whenever customers interact with a brand, they want to feel an emotional connection to evaluate the product's value subconsciously. As shoppable videos are interactive, it is easier to engage the customer with your brand right off the bat to help them consider questions such as: What is the story the brand is trying to narrate? Does it identify my pain points? Why should I choose this product or brand?
The real-time interaction with the customer can make a difference, prompting them to complete the purchase instead of scrolling past the ad. It also shrinks the sales journey significantly, creating a direct purchasing desire right after viewing a product. As a result, the engagement goes up, and so do the sales, conversions, and brand loyalty.
How to use shoppable videos to increase conversions?
1 – Make them organic
The savvy customer hates anything shoved down their throat. Instead of making a hard sales pitch, focus on making shoppable videos that feel organic and natural. While it should have a high-production quality that forces one to stop and pay attention, it should still look like a regular post on the feed.
2 – Pay attention to the thumbnail
Users have an option to disable auto-playing the videos on their feed. So they may only notice the thumbnail of your video. That's why the thumbnail should be compelling enough to make them click the play button.
Since the thumbnail is an image from the video itself, pick an attractive one that motivates users to click.
3 – Keep them short but powerful
Attention is a premium commodity in the digitally-driven world. If you want the users to notice the shoppable videos, you need to be economical about the time. To avoid losing customers, use various video editing techniques to trim down the length while positioning the critical branding and imagery right in the beginning.
But you don't need to spend hours trying to edit videos professionally. A free video editor like Clipchamp, among other options available online, offers a user-friendly interface with customizable templates to create an entire video from scratch.
4 – Always use A/B testing
It is impossible to guarantee or predict the response of your audience. It is a good practice to create multiple versions of the shoppable video with different storytelling approaches and products. Using A/B testing, you can work out which one clicks best with the target audience.
5 – Optimize videos for mobile users
A vast majority of users access Instagram from mobile devices. Moreover, shoppable videos work best on the mobile app. Make sure to optimize them for the mobile screen by choosing the correct video dimensions and including a prominent CTA button. Additionally, always use a high-quality camera and save the videos in MP4 format.
6 – Unleash your creativity
Using a hard sell approach can make you look like the used car salesman no one prefers interacting with. So you need to be creative and weave a story around your brand or product to make it relatable for the audience.
For instance, if you're selling a sports bra, create a video where the model performs a series of high-intensity workouts. It will help capture your target audience's attention, and the product placement will be a bonus.
Final words
Shoppable videos make it easier to sell more by redefining product placements. If you are serious about achieving steady growth through Instagram ads, it's time to start testing this format as part of your video marketing strategy.
Remember — Instagram cannot do much for your business if you're not using the right approach to monetize it. Putting this small business tip to practice can help skyrocket traffic and sales.
Follow and connect with us on Twitter, Facebook, Instagram, Youtube