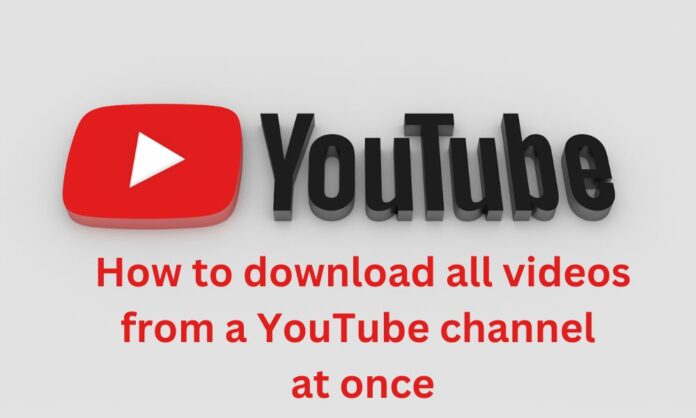 It can be helpful to learn how to download all videos from a YouTube channel. Thus, you don't have to spend a lot of time clicking each video to download them one by one. Do you want to download all videos from a YouTube channel at once?
If you do, here are three quick ways for you to do that.
Now, you can check the following instruction to see more details.
Tips: Before using any of the following methods to download YouTube channels, you're strongly suggested creating a new folder to house the videos to be downloaded from YouTube. Otherwise, the video you download will be scattered in a folder.
Method 1. Download Entire YouTube Channel with a YouTube Channel Downloader
It's a big project to download an entire YouTube channel because the videos can be several or up to dozens and the number of videos decides how much time it will take for you to download. Thus, speed is an important factor to consider. Only when you have a fast download speed can you spend less time downloading videos and more time watching them. Given this factor, we recommend using this quick video downloader – EaseUS Video Downloader to handle the download task.
As one of the most popular and professional video downloaders, EaseUS Video Downloader can download videos from a YouTube channel with the best quality. Apart from that, it has many other outstanding features, such as:
100% secure – it is 100% safe without the virus.
900+ supported websites – it supports most popular websites like YouTube, Facebook, Instagram, etc.
Fast download speed – it only takes a few minutes to download a video, even more than 2 hours.
Batch download – it supports downloading videos, playlists, and channels at a quick speed.
Multiple formats – it allows you to download YouTube videos in MP4, MP3, or WAV format.
Various video qualities are available – it supports downloading videos in 8K/4K/2K/1080P/720P/480P.
From these great features, you can see that EaseUS Video Downloader allows you to save YouTube playlists, channels, and videos in various qualities and formats. If this can meet your needs, you can give it a try.
Download for Window Download for Mac
Step 1. Launch EaseUS Video Downloader on your PC. Copy and past the URL of the YouTube channel to the input bar on the Home page. The link should look like: http://www.youtube.com/user/username or http://www.youtube.com/channelname.
Step 2. A page will open in the built-in browser. Click the download button in the middle bottom to download all videos in the channel.
Step 3. In the downloading page, you will see a list of video in the downloading task. Wait for the downloading to complete, then you can check all the downloaded videos on your PC.
Disclaimer: This guide is compiled for personal fair use ONLY. EaseUS is in no way collaborated or affiliated with YouTube and never advocates any copyright infringement action. The end-user should be solely responsible for their behavior.
As you can see it is easy to download the entire YouTube channel with EaseUS Video Downloader. This video downloader can do more than that, and it also can download music from YouTube to USB or download YouTube videos without premium. Anyway, it will impress you, so don't hesitate to give it a try.
Method 2. Download All Videos from YouTube Channel Online
There are many online video downloaders also available for YouTube channel download, but they're not recommended due to a variety of reasons, such as:
They are slower than the desktop-based downloaders
They may contain ads or other content that can influence your user experience
They may come with viruses, which will harm your computer
These factors are the main reasons why you're not recommended to use an online downloader. But if you don't mind those shortcomings, you can go to search for such tools online by entering some keywords like "Online YouTube channel downloader" or "Download YouTube channel online" or other keywords.
Method 3. Download YouTube Channel Using a Command
This is the least recommended way to download a YouTube channel because it requires some Python basics. That makes it hard for many users, especially those who're new to Python, to proceed. But that doesn't matter since we will simplify the process and make it clear to you.
The process contains two steps. The first is to download and run YouTube-Dl and the second is to download videos via the YouTube-Dl command.
Step 1. Download and run YouTube-Dl on your computer
Head to this page: https://github.com/ytdl-org/youtube-dl/releases/tag/2021.04.07 . Find and download youtube-dl.exe.
Create a folder and drag your youtube-al. ext file to it.
Press "Windows + R" to open the System Properties window.
Enter "systempropertiesadvanced" in the dialog box and press "Enter" to proceed.
Under the "Advanced" section, click "Environment Variables."
Double-click "Path" from the new window.
Click "New" and enter the location of the folder that you created in Step 1. Then, click OK to proceed.
Step 2. Run YouTube-Dl command Using Command Prompt
Copy the link to the YouTube channel you wish to download.
Press "Windows + R" to open Command Prompt.
Type "cmd 'in the box and press "Enter" to proceed.
Type the YouTube-Dl command, hit the space bar, and then copy and paste the link of the YouTube channel you wish to download. Hit "Enter" to continue.
Then, YouTube-Dl will parse the link and download the videos of the channel to your computer.
The Bottom Line
With these methods, you can download your favorite channel without any hurdle. Each method has its pros and cons. You can weigh that and choose the one you think would work best for you. But considering the number of videos you want to download, download speed, and ease of use, EaseUS Video Downloader is the best option. 
Via – multimedia.easeus