The inventor of MITTI System and urban SRTs (Situation Reaction Tactics), Grandmaster Shifuji Shaurya Bhardwaj has nationalism flowing in his blood. Motivated with the grand aim of equipping every man and woman with the prowess of self-defence, self-esteem and Patriotism, Grandmaster Shifuji believes that the way to fight against terrorism and renegades is to establish a Union. Grand master Shifuji Acknowledged As "The World's Best Commandos Mentor", and The "World's Best Commando Trainer". He is the pioneer in the Elite Commandos mentoring and extreme fitness Mitti boot camps industry. Grandmaster Shifuji is the only foreign citizen and first-ever Indian citizen to have completed the graduation certificate and PhD certificate from ISRAEL in the most lethal counter-insurgency, counter-terrorism, and wholly equipped urban combat. He is also the topmost celebrity life coach, an actor, action choreographer, a revolutionary motivational speaker, freelance commandos mentor and chief action designer.
Grandmaster Shifuji Shaurya Bhardwaj is busy with two dream projects. The 'Mission Prachand Bharat' project will educate all Indians in the Gurukul's manner, the way he was brought up. The gurukul system is intended to instil good moral values, pride and nationalism, along with "Sanatan Vedic military training, skills with disaster management and extreme survival tactics. A selfless aim of "Mission Prachand Bharat" is to mentor the youth in deferent practical-based skills, prepare them to be accountable, Employable and generate 50 Million Jobs for them. Shifuji's second dream project is women empowerment and women employment with 'Mission Prahar', whose goal is to train a minimum of 10 million women of all ages. Instil them with a calculated assessment based confidence to protect themselves against threats such as rape domestic violence and extreme street survival. So far, mission prahar has trained over 4 million women since 1999, especially in Rural India. Shifuji's Mission Prahar Education and Training Trust is working vigorously to Mentor and Train 40-50% of trainees to be instructors, trainer and professionals in the related fields to generate their respectful living.
Selfless Services to the Motherland.
Grand Master Shifuji's Mitti System is a completely Free of Cost mentoring services program exclusively for the Special Forces, Indian Armed forces, CAPF and Indian Paramilitary Forces. This training is unique because of the secrecy and confidentiality maintained by Grand master Shifuji as a genuine patriot, committed professional and a badass Grand master. He Has a tremendous following that believes in APOLITICAL patriotism, respect of the Indian Armed Forces, and great respect for the soldier's supreme sacrifice for the holy motherland. The Patriots immensely respect Grand Master Shifuji because He NEVER shares any detail related to his MITTI SYSTEM's Freelance Commandos mentoring services for personal or professional branding. 
MITTI is the most modern armed counter-terrorism system and is considered an indigenous Swadeshi Indian Customized Situation Reaction Tactics (SRTs) based program. The program is customized for armed close quarter battles with and without SRW or LRW. The system focuses on the most responsive reflexes, invisible upper body agility, strength and the principal rule of 'NO RULE ' in armed direct urban warfare.
Undoubtedly, Grandmaster Shifuji is one of the World's Top Two Living Legends, The deadliest and the topmost professional Commandos Mentors in the Field of Deadliest Armed Counter-Terrorism & Lethal Counter-Insurgency. The other one is the Founder & CEO of Caliber 3 serving Colonel Sharon Gat from Israel. He is an IDF Veteran and senior chief instructor of Israeli Special Forces and IDF.
Grand Master Shifuji offers many customized training programs, like Mitti HINIT, Mitti martial arts, Mitti Boot Camps, Shifuji's Modern Kalaripayattu and Mitti's Corporates Boot Camps for police verified civilians.
He has programs like an extreme fitness routine, known as Shifuji's Desi Mitti Martial Arts, HINIT program for Civil Service Officers and MITTI SYSTEM's Law Enforcement training programs. He also has programs for paramilitary forces and Central Armed Police Forces. 
"We all nationalists must establish a Union against the renegades and terrorism," says Grandmaster Shifuji.
As a patriot, Grandmaster Shifuji considers himself "a normal Indian citizen" Ek SAMANYA BHARTIYA. As a freelance commandos mentor, he is an expert on Customised Counter Terrorism, Counter Insurgency, Tactical modern and traditional warfare art forms, and the 'akhada' and 'desi' system. He is a Kallaripayattu Guruswamy, one of Verm and Marma Kalari's greatest expert guru, a Bollywood action designer and action consultant.
Grand master Shifuji is well known for being the Mentor, Life Coach and Master of Tiger Shroff, Ahan Shetty and Subhan Khan Nadiadwala. As an action consultant and action designer, He has worked with Warda Khan S Nadiadwala, Itzik Cohan (Israeli Filmmaker, Producer), Galit Giat (Israel), Maayan Refaeli (Israel), Ajay Devgan, Karim Cohen (Israel), John Abraham, Krishika Sunil Lulla, Bat-El Musawi (Israel), Shraddha Kapoor, Shantanu Yadav, Vidyut Jamwal, Javed Jaffrey, Nora Fatehi, Lisa Ray, Nissim Garamech (Israel), Sudheer Babu, Varinder Singh Ghuman.
His other notable missions are Mission Meri Mitti, Mission Prachand Bharat Shaurya, Mission Compulsory Military Training, Mission Muzaffarabad, Mission Shahadat Samman, Mission Jai Hind Bro, Mission Bharat Math, Mission Vedic Military School, Mission Mitti Boot Camp. 
(Image- "A glimp of MITTI SYSTEM mentoring session")
Grandmaster Shifuji takes excellent inspiration from Legends, Freedom Fighter and revolutionaries like Shaheed Bhagat Singh. Chandra Shekhar Aazad maintains a similar moustache and wears clothes with the revolutionary's printed face like Bhagat Singh, Subhas Chandra Boss, Chatrapati Shivaji Raje and Maharana Pratap. His clothing style has become a status sympol of Patriotism in India and billions of Indian youth hope to be Like Grandmaster Shifuji Shaurya Bhardwaj.
Grandmaster Shifuji wants to unite the nation against threats, preparing the youth to be ready for action.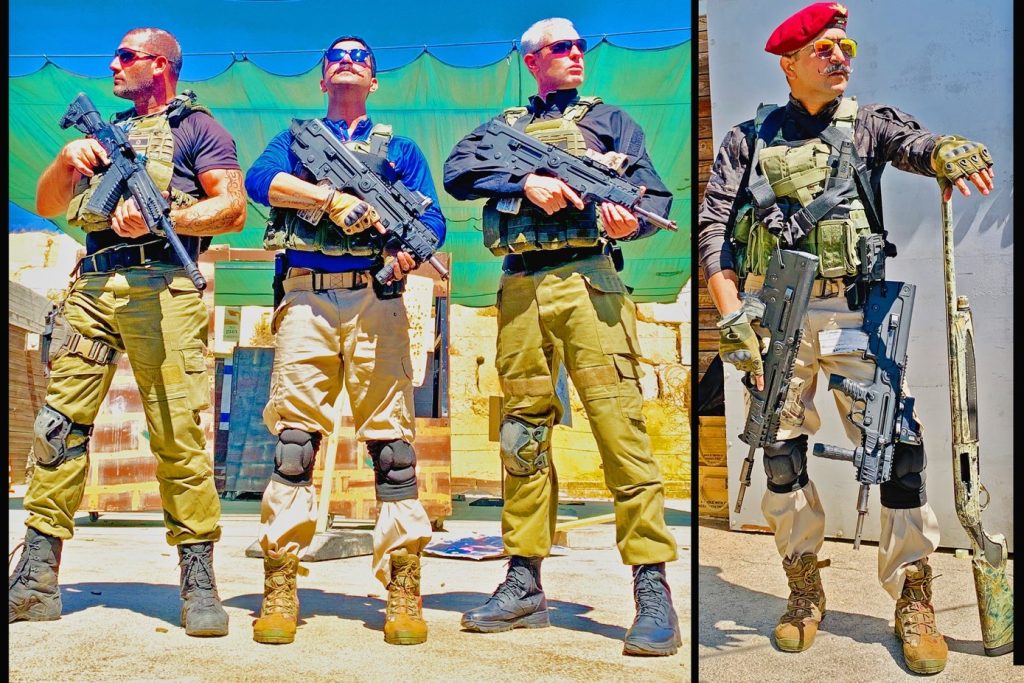 Left to Right- Major Eitan Cohen, Legendary Grandmaster Shifuji Shaurya Bhardwaj, Colonel Sharon Gat, Photo Location- Israel.
For more information, please visit: https://www.MasterShifuji.com 
Follow and connect with us on Twitter, Facebook, Instagram and Youtube