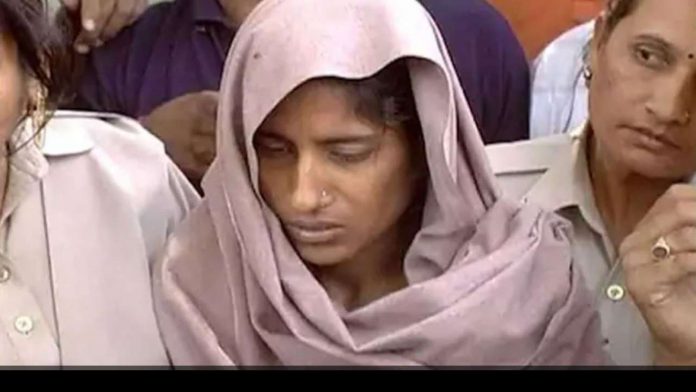 The jail administration has started preparations to hang a woman in Mathura jail. The woman who could be hanged inside Mathura jail is Shabnam, who belongs to Amroha, Uttar Pradesh. Shabman joined hands with his lover Salim to kill 7 of her own family members with an axe in April 2008. It is learnt that Mathura jail administration has already ordered the rope used for hanging death row convicts.
It is to be noted that Shabnam had challenged the lower court's order in Supreme Court but the apex court had upheld the decision of the lower court. After this, Shabnam and Salim sent a mercy petition to the President, but their plea got rejected. Shabnam will be the first female prisoner to be hanged after India's Independence. Shabnam is currently behind bars at Bareilly, while Salim is lodged in Agra Jail.
A female hanging house was built in Mathura Jail 150 years ago but no woman has been hanged here since Independence. According to the Senior Jail Superintendent, the date of execution is not fixed yet. The Senior Jail Superintendent, however, added that jail administration has started the preparation for the hanging and order for rope has been placed. Shabnam and Salim will be hanged as soon as the death warrant is issued.
People in the small village of Bawankhedi, which is located adjacent to the Hasanpur town of Amroha, still remember the gruesome incident which took place on the intervening night of April 14-15, 2008. It was on this day when Shabnam, along with his lover Salim, killed hes father Master Shaukat, mother Hashmi, brothers Anees and Rashid, sister-in-law Anjum and his sister Rabia with an axe. Shabnam had also killed her nephew Arsh by strangulating him. Shabnam killd all these family members as they were becoming obstacles in the path of her love affair with Salim
The case was heard in Amroha court for two years and three months. After which, on 15 July 2010, District Judge SAA Hussaini ruled that Shabnam and Salim should be hanged till death.
In Shabnam-Salim case, the cross-examination lasted for about 100 dates. On the day of judgment, the judge heard the statements of 29 witnesses and convicted both Shabnam and Salim on July 14, 2010. The next day, on July 15, 2010, Judge SAA Hussaini sentenced both of them to death in just 29 seconds. In this case, 649 questions were asked from 29 people. The judgment was written in 160 pages.
Follow and connect with us on Twitter, Facebook, Instagram, Youtube