ndia has embarked on its journey of the largest vaccination drive ever. The nation has now opened gates for the 18+-year-old citizens to get their shots at the COVID-19 vaccination centers and protect themselves from the coronavirus.
Right now, you can use the CoWin platform to enroll yourself for the COVID-19 vaccine registration. Although, many people are having trouble with the availability of the centers.
There are other ways using which you can keep yourself updated with the vaccination drive. One of them is finding nearby vaccination centers with the help of WhatsApp.
How to find COVID-19 vaccination centers via MyGov Corona bot?
To get information on Coronavirus vaccination, there is now an official chatbot from the Indian government, which goes by the name of MyGov Corona Helpdesk. You can take its help by sending texts on its WhatsApp number:
1. Save the number +91-9013151515 on your smartphone.
2. After that, you can find the MyGov Corona Helpdesk in your WhatsApp contacts.
3. Alternatively, you can open the browser on your smartphone and visit wa.me/909013151515. You will be redirected to the WhatsApp chat page of the bot.
4. Now, to get information, you can type Namaste, Hi, or Hello and the COVID-19 chatbot will present you with the options you can perform.
5. You can press 1 to get information on COVID-19 vaccination centers.
6. In the next step, press 1 again and enter your PIN code after that.
7. The chatbot will display nearby centers along with the number of slots available and age limit.
Other than centers, you can also get informed about coronavirus symptoms, latest updates, and fact check news and misinformation with the help of the MyGov Corona Helpdesk.
How to find nearest COVID-19 resources?
If you or anyone in your friends or family has been tested positive for coronavirus, then there is an AI-powered WhatsApp chatbot that can provide information related to essential resources like the availability of oxygen, beds, medicines, etc.
1. You can get the chatbot by adding the number +1(234)517-8991 to your device contacts or visit the link wa.me/12345178991.
2. Once on the chat page, type and send COVID to get started.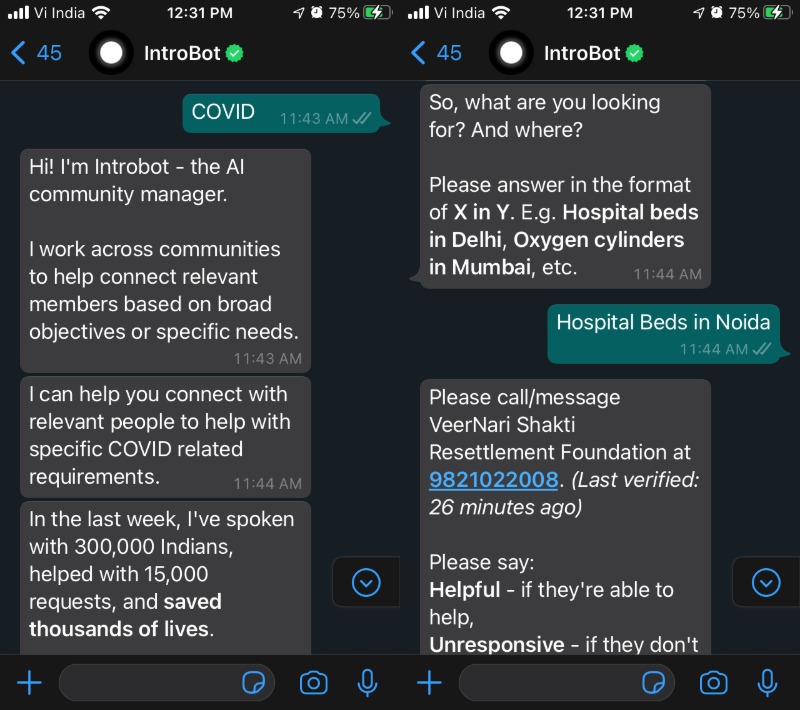 3. You can search your query in natural language. For example, type Hospital Beds in Delhi.
4. The chatbot will provide a phone number that you can call for help.
5. Depending on what response you get, you can give feedback to the bot. For example, whether the person was helpful, the oxygen was out of stock, or the number didn't connect.
Giving your feedback will help the corona help bot maintain a reliable database of medical resources.
So, these were some helpful ways to get covid resources information easily and quickly. We'll try updating this article with more useful information.
Follow and connect with us on Twitter, Facebook, Instagram, Youtube