In our country, cow has got the status of God. Many people here address the cow as a mother. The cow is considered a sacred animal in Hinduism. People also worship cows. Many people believe that giving bread to the cow, serving it or rearing it at home is very auspicious. A cow is an animal that we can easily see on Indian roads. Cows are seen roaming in every street, locality or intersection. Cows usually roam the streets. She does not come inside anyone's house or shop. However today we are going to introduce you to a cow who has fallen in love with a clothes shop. Alam is that cows go to the shop of this cloth every day. Let us know this whole matter in more detail.
In fact, these days a video is becoming very viral on the Internet. In this video, the cow is seen resting on the mattresses inside the shop. According to the information, these videos are from Mydukur of Andhra Pradesh. There is a clothes shop in which a cow comes every day for the last 8 months. These cows come to the shop every day and sit for 2 to 3 hours. The interesting thing is that the owner of the shop has no problem with the arrival of the cow. Rather, when that cow comes inside the shop, the owner sets a special mattress or bed sheet for it. Then the cow sits on top of it.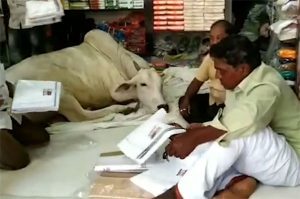 The owner of the shop says that cows do not harm anyone. She does not even make any mess inside the shop. Whenever a cow comes, the owner of the shop feeds it and also worships it. The shopkeeper has also benefited from the arrival of the cow. Now, seeing this cow inside the shop, the interest of the customers increases and they come to the shop again and again. In this way both the owner and the cow of the shop are happy.
This is a very good example of how humans and animals can live together in this society. A cow is considered a quiet animal anyway. Usually, she does not harm anyone. It also has its own happiness to serve the cow. Seeing this, the mind gets different kinds of peace. They are similar in a way that dog owners feel happy in their company. Whoever they are, they definitely benefit us mentally. Then, in this case, the cow comes daily after seeing the love of the shopkeeper. Otherwise, other shopkeepers drive away from the cow as soon as they see it. No one even thinks about letting him sit inside. By the way, do tell us your opinion on this whole matter.