Despite China lifting its lockdown at major places and thereby opening up factories and retail hubs in a bid to move the halted economy, it looks like the post-corona-era is going to be difficult for the country.
Since January, when the coronavirus was declared a pandemic, China has virtually shut down everything. The economy came to a halt not only in the country but outside too. Many countries have their manufacturing units based out of China as it had emerged as a major manufacturing hub over the decades. This coupled with the strong anti-Chinese hate for its lack of cautiousness in handling the pandemic would certainly change things economically.
Several countries have already been looking to move their manufacturing outlets from China. According to reports, South Korea is planning to shift some of its factories to India. Companies like POSCO and Hyundai Steel are considering Andhra Pradesh as a likely place to set up their factories. Last week, Japan reportedly is spending 2.2 billion dollars to help companies to shift out of China.
An Opportunity for India
The situation presents India an opportunity to emerge as a viable alternative to China in terms of manufacturing considering its huge manpower. The Indian government has already been working along these lines. It is reportedly working on a strategy to review potential roadblocks in export manufacturing. The focus will be pharmaceutical, automobile and electronic sectors. The mobile phone manufacturing has already been funded to ramp up its production. The focus will be to attract major companies like Apple and Samsung.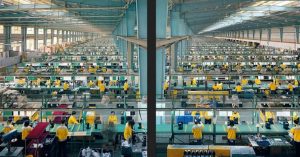 This, in a post-corona-era, will be extremely beneficial when India will be looking to bring its economy back on track. If India succeeds, it would boost employment, revenue, and foreign exchange. Currently, India creates a huge chunk of job opportunities in the agricultural sector. If India achieves to be an export hub, the shift will be towards the manufacturing sector.
However, India is not the only country in the race. Vietnam is a close competitor. It will be a perfect time to boost the Prime Minister's Make in India campaign which was aimed at creating more job opportunities in India.