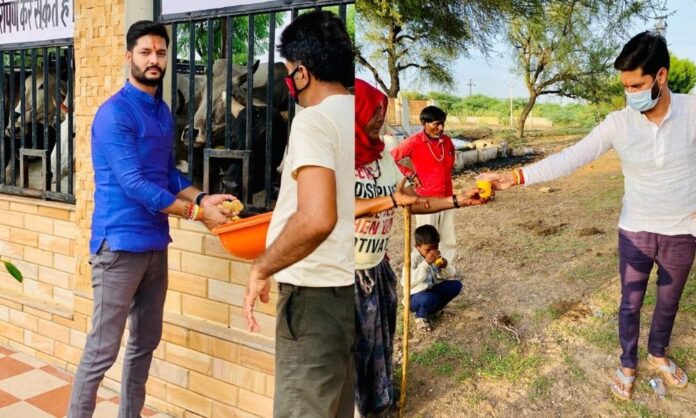 Motivating the devotees to choose the path of donation and charity, Nitin Pujari Ji of Salasar Balaji Dham says, "Unnecessary expenses should be avoided on birthday celebrations. Instead, people should donate and help the poor and needy on their birthdays."
Setting an example for the society, Nitin Pujari Ji himself, extended his charity and services to the Salasar Balaji Gaushala, on his birthday a few days back. Describing the belief of cow service in Hinduism, Nitin Pujari ji says that, "According to Hindu religion, serving a cow is equal to serving 33 crore deities."
Following this belief, Nitin Pujari ji also donated to the Salasar Balaji Gaushala on the occasion of his birthday and helped the poor and needy. Nitin Pujari ji believes that in today's modern era, people spend thousands of rupees in big parties on their birthdays. Instead of spending money on fun and parties, people should spend this money on charity, feeding the needy and poor or donating the things they need.
Nitin Pujari is the 9th generation priest of Salasar Balaji Dham and has been rendering his service in Balaji Dham for many years. Keeping in mind that the devotee should not be away from his God due to the pandemic Nitin Pujari has also provided the facility of live darshan on his social media channel. Although now Salasar Balaji Dham is open for the devotees to visit, those who are unable to visit the temple can take advantage of this live darshan facility. 
To curb the growing discontent and distrust of God during the pandemic and to listen to the griefs and queries of the devotees, Nitin Pujari will also be coming live on his social media channel on Sunday, Aug 04, 2021, at 7 pm. 
While motivating people to help the needy people and donate and donate, Nitin Pujari Ji, requests the devotees to take a pledge not to waste money on birthday celebrations and instead use that money for donations and charity for the welfare of the society.
Follow and connect with us on Twitter, Facebook, Instagram, Youtube