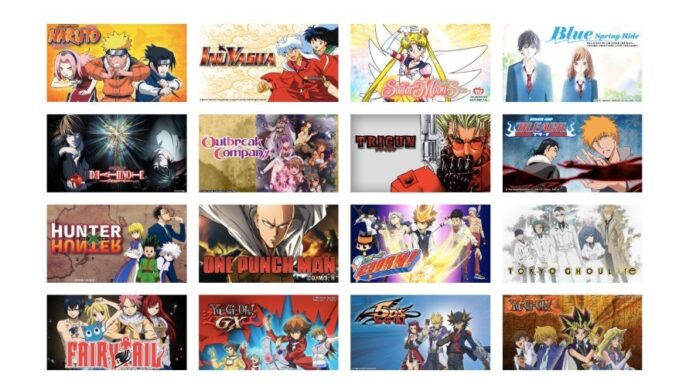 re you looking for some good anime streaming sites where you can watch anime online for free in 2021? If yes, then you are in the right place. If you are concerned about their legality, then we've got you covered there too!
Here I have reviewed some of the best anime sites that let you watch anime online free of cost and legally. These websites have been ranked based on the amount and quality of content they offer. So if you are new to the anime world or unaware of legal anime streaming websites, this list is for you.
What is Anime and Why is it so popular?
Anime is essentially animated content from Japan. The Japanese anime style highly differs from the one we see in movies from Pixar, DreamWorks, etc.
Anime follows a limited animation style which allows Japanese creators to produce bulk of episodes and that too with intricate character design. The unique style of anime is one big reason why anime is popular across the world.
Over the years, the number of anime watchers has grown drastically. This can be attested by the massive popularity of Demon Slayer Movie all over the globe. Many other all-time popular anime such as One Piece, Naruto, Bleach, Fairy Tail etc have also helped in getting anime on a global level.
11 Best Sites To Watch Anime Free In 2021
| | | |
| --- | --- | --- |
| No. | Free Anime Websites | Best Known For |
| 1. | Crunchyroll | Both old and new anime series and movies, no signup required |
| 2. | Netflix | Ton of new and original titles |
| 3. | Funimation | Known for releasing english dubs of anime |
| 4. | Anime Planet | Variety of anime titles, manga, and news |
| 5. | CONtv | Classic Animes |
| 6. | Tubi TV | Stream high-quality anime without signup |
| 7. | Crackle | Classic Animes |
| 8. | Midnight Pulp | Action anime |
| 9. | Asian Crush | Romantic and uplifting animes |
| 10. | 9anime | All types of anime and filter options |
| 11. | Gogoanime | High-quality streaming and can download anime |
1. Crunchyroll
Crunchyroll is a legal anime website that generally offers paid premium plans, but you can also watch thousands of episodes of free anime online without a membership. The only catch is that they come with commercials that are usually three ad breaks per episode. So as long as you are okay watching ads, you can binge-watch the entire Naruto series for free!
The stream rate is quite steady with almost no lag, thanks to its dedicated servers. You can choose the anime video quality from 360p to 1080p HD. To explore different genres and categories in its vast collection, use the filters on the site. Moreover, it hosts drama and manga titles as well, so it's an all-in-one package for an Otaku.
Crunchyroll is one of the rarest anime websites in 2021 that lets you watch anime online without signing up. One big problem, however, with Crunchyroll is that a lot of content is restricted for certain regions.
Why use Crunchyroll?
Up-to-date subs and simulcasted episodes
No signup required to watch anime for free
Available in 100+ countries
2. Netflix
Netflix is one of the biggest streaming services, however many don't know it has a huge anime catelog. On top of that, a lot of anime on Netflix have English Dubs.
Black Clover, My Hero Academia, One Piece, Attack On Titan; you can find all the best anime series on Netflix. If you want to watch a movie, Netflix also holds a ton of award-winning anime movies on its platform. Other than that, Netflix also has many original anime and plans to release nearly 40 anime titles this year.
Netflix may feel out of place on this free anime sites list of 2021, however we would highly recommend it to those who already have a Netflix subscription or those who download anime from torrent sites.
3. Funimation
If you prefer dubs over subs, then Funimation has got you covered. It is one of the best sites to watch English dubbed anime.
Most anime are free to watch and are ad-supported, but you will have to buy a subscription to watch latest episodes of an anime. There is no quality cap so you can watch anime for free in high-quality.
One big catch, through, with Funimation is that it is only available in selected countries. However, geo-restrictions can easily be bypassed with the help of a good VPN.
4. Anime-Planet
Anime-Planet is another Otaku stop just like Crunchyroll. Apart from watching free anime online, it lets you read Manga, get news about the latest anime shows, movies, games, and more. It hosts a big library of free to watch animes that includes popular titles such as Naruto, Pokemon, JoJo's Bizarre Adventures, ReLife, Hikari: Be My Light, etc.
To watch anime online for free on Anime-Planet, you will have to sign up on the website. After that, you can stream the free anime content in 8 different subtitles and with a video quality ranging from 240p-1080p. You can even create a personal watchlist to keep track of the animes you want to binge-watch in 2021.
Why use Anime-Planet?
Subtitles available in 8 languages
Free anime streaming at 1080p HD
Manga and Anime News
5. CONtv
CONtv is one of the best sites to watch anime online for free, but earlier, it was known as Viewster. Many of you might already be familiar with it. In June 2020, Viewster was acquired and rebranded as CONtv Anime.
After the acquisition, this site has introduced a wide selection of anime series and movies for otakus. CONtv has an attractive and user-friendly interface with well-defined categories to help you find what you are looking for. It is an ad-supported site that lets you stream anime for free in 2021.
Some of the interesting titles you'd find here are Mononoke, Kite, Samurai Troopers, Street Fighter, etc. Interestingly, CONtv offers a different library for different countries, and the anime catalog for the US is said to be the best one, so you can opt for a proxy or VPN services to access it.
Why use CONtv?
English subtitles
240p to 1080p streaming supported
Available on Web, Android and iOS
6. Tubi TV
Tubi TV is a popular website for streaming TV shows and movies, but it also lets you watch dubbed and subbed animes for free. The reason behind placing it this low on the list is its limited collection. You may not find the latest or famous titles on this anime website. But since the video quality is outstanding, you can check out the shows hosted here.
You can stream videos between 360p-720p on TubiTV. It also offers other options for captions and playback controls to improve your viewing experience. The best part is that you don't have to sign up on TubiTV to watch anime online for free in 2021.
Why use Tubi TV?
No signup required; Dark themed UI and clean interface
High quality and fast streaming of video
Available on Web, Android, and iOS
7. Crackle
Many of you might be familiar with Crackle. Owned by Sony, this free anime streaming site hosts a handful of anime series. Even though they are less in quantity, the site makes up for it by providing very high-quality videos and an ad-free experience.
Just in case you are interested in watching free TV shows and movies, you should definitely check out its other sections. Also, keep in mind that this site is only available in the USA, Canada, Australia, and 18 countries in Latin America. If you are located elsewhere, it might not work for you. However, you can use a VPN to bypass geolocation restrictions.
There is one thing about Sony Crackle that personally bothers me, and that is the lack of a well-defined catalog. The anime titles aren't pooled in a single category, so you might have to put in some effort to find the shows. But since it is a safe anime website where you can stream free and legally in 2021, one has to put up with some tradeoffs.
Why use Crackle?
Excellent video quality and streaming speed
Ad-free experience
8. Midnight Pulp
Midnight Pulp is one of the good anime websites to watch free anime online. It has several dubbed and subbed anime movies as well as series. This free anime streaming site is owned by Digital Media Rights, which owns several other entertainment websites that offer free and legal anime.
The video quality is very high, and the episodes stream at a fast speed. But you will come across a few ads both on the site and in between the episodes. It offers some flexibility in controls such as playback speed, forward/rewind, and streaming quality.
In case you end up exhausting the anime library on Midnight Pulp, you can always check out its free movies and TV series section for more entertainment.
Why use Midnight Pulp?
High-quality videos
Filters to sort content
9. Asian Crush
Asian Crush is another completely legal and safe anime website that lets you stream anime for free in 2021. It is also owned by Digital Media Rights ad so you might find some overlapping content between Asian Crush and Midnight Pulp.
Even though all the content is not available for free and one has to buy a premium membership to watch the latest anime titles. However, with a free account, you can watch anime that contain ads. The collection is in the free section is good enough to keep you glued to the site. Just in case you are interested in Korean dramas and Asian movies, you can check out those too on the website.
Why use Asian Crush?
Good streaming speed, dark mode, and clean UI
Supports multiple platforms: Android, iOS, Roku
Illegal Websites To Watch Free Anime
We understand that the availability of free and legal websites to watch anime is limited. This is why a lot of anime lovers tend to flock over to illegal anime sites that offer all the copyrighted content for free. We do not recommend using illegal sites to watch anime as they fall under punishable offence and not to mention the risk of getting your device infected with malware. If you still wish to know of such sites that let you watch full episodes of anime for free without signing up, here they are:
10. 9Anime
9Anime is one of the biggest anime sites where you can stream anime online for free. It has a huge anime catelog with all the latest anime.
You can sort anime by genre, country, airing status etc. It also features English dubs of anime. One big issue with 9Anime is that you will encounter ads and auto redirects while streaming an anime.
On the bright side, the site does not feel cluttered and finding anime of your choice is very easy. It also features an anime schedule so that you can keep track of episodes release. Overall, it's one of the best anime websites to watch free content.
11. GoGoAnime
GoGoAnime is another free anime site for 2021 where you can stream anime online for free. Similar to 9Anime, it has a ton of anime to choose from.You can filter out anime by their genre and see which anime are popular on the site. The anime site also features Chinese dubs of anime other than english dubs. You can download anime in full HD as well, however you will need to sign up on the site.
Similar to 9Anime, you will find ads on the website and redirects when you click on the media player.
It's Time To Watch Anime Online For Free!
Like 9Anime and GoGoAnime, there are many other free anime websites out there that might let you watch the latest episodes for free. But the fact that they are illegal is undeniable.
Since they do not possess the proper license, these sites are often taken down, but often come back online with a new similar domain.
Consider bookmarking sites from this list of the best free anime streaming sites to watch anime online in 2021. In case you know of other good places to watch free anime, let us know in the comment box below, and we shall feature it on this post.
Free Anime Streaming Sites: FAQs
1. Where to watch anime for free and legally?
You can watch anime online for free and legally on Crunchyroll, Anime-Planet, CONtv, and other websites I have mentioned in the list above.
2. Is Crunchyroll free?
Yes, Crunchyroll offers a free as well as a paid version. In the free version of Crunchyroll, you can watch several popular anime titles for free with ads in between.
3. Where can I watch uncensored anime legally?
You can watch uncensored anime legally on Funimation, Crunchyroll, and HiDive.
4. Is 4anime legal?
No, 4anime is not legal. It is illegal to stream anime from 4anime and falls under punishable acts.
5. Is GoGoAnime legal and safe?
No, GoGoAnime is not legal. It is illegal to stream anime from 4anime and falls under punishable acts.
6. Do you need a VPN for anime streaming sites?
Most legal anime streaming sites are only available in a handful of countries. For instance, AnimeLab, which is one of the biggest Japanese anime distributors, is only available in Australia and New Zealand. If you don't live in the aforementioned countries, you will need to use a VPN to stream anime.
7. What streaming sites can I watch anime content without signing up?
You don't need to sign up to start watching anime on Crunchyroll.
Follow and connect with us on Twitter, Facebook, Instagram, Youtube