Actor Hrithik Roshan, who took an entry in Bollywood from the film "Kaho Naa Pyaar Hai", has proved that he was born to the film industry. After his first film Kaho Naa Pyaar Hai, Hrithik Roshan cast a spell on all people that people of all ages became his fans. Hrithik Roshan is the son of the famous and superhit actor of his time, Rakesh Roshan. In today's time, Hrithik Roshan is one of the most talented and successful actors in the film industry. In his generation, Hrithik Roshan is the only member of the Roshan family who has ventured into Bollywood. Despite being from the Star family, Hrithik Roshan achieved success on the strength of his talent in Bollywood.
Read: Fans of Hrithik Roshan and Tiger Shroff stuck on 'War' trailer
Now Hrithik Roshan's sister Pashmina Roshan is also going to step into the acting world. According to media reports, Hashik Roshan's uncle Rajesh Roshan's daughter Pashmina Roshan is going to enter Bollywood very soon. It is being told in the report that Pashmina is preparing for her debut before entering the film industry, besides Hrithik Roshan is also training himself to guide his younger sister Pashmina. According to the report Hrithik Roshan is the nearest to Pashmina. Therefore, he himself is guiding them personally. After entering Bollywood, Pashmina can compete with other youngsters on par.
https://www.instagram.com/accounts/login/
If we talk about Hrithik Roshan, then his film "Vaar" released recently has been a superhit. In this film, Tiger Shroff was also in the lead role with Hrithik. Hrithik and Tiger's film "War" has earned good money at the box office. According to sources, Pashmina seems to be only 18 years old but in terms of understanding, her age is like a man of 40 years. Pashmina is only 23 years old. Pashmina will be 24 years old on 10 November. Pashmina has a very strong theater background. Apart from this, Pashmina has also done a special course of 6 months from Barry John Acting School.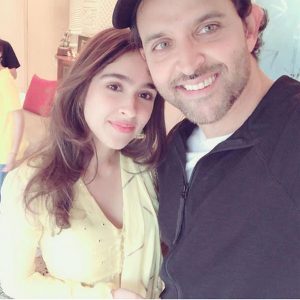 Pashmina has also taken acting training from theater actors Abhishek Pandey and Gold Berg. Let us tell you that Pashmina will be the first member of the third generation of Roshan Family to step into B Town. Hrithik Roshan is very close to Pashmina and has shared a lot of his photos on Instagram with Pashmina. When Pashmina did theater for the first time, Hrithik Roshan praised him on social media. Hrithik Roshan is very excited about his cousin sister's debut. Pashmina has made her name as a stage actor before appearing in films. Now it remains to be seen whether his cousin sister also makes a bang debut, like Hrithik Roshan.